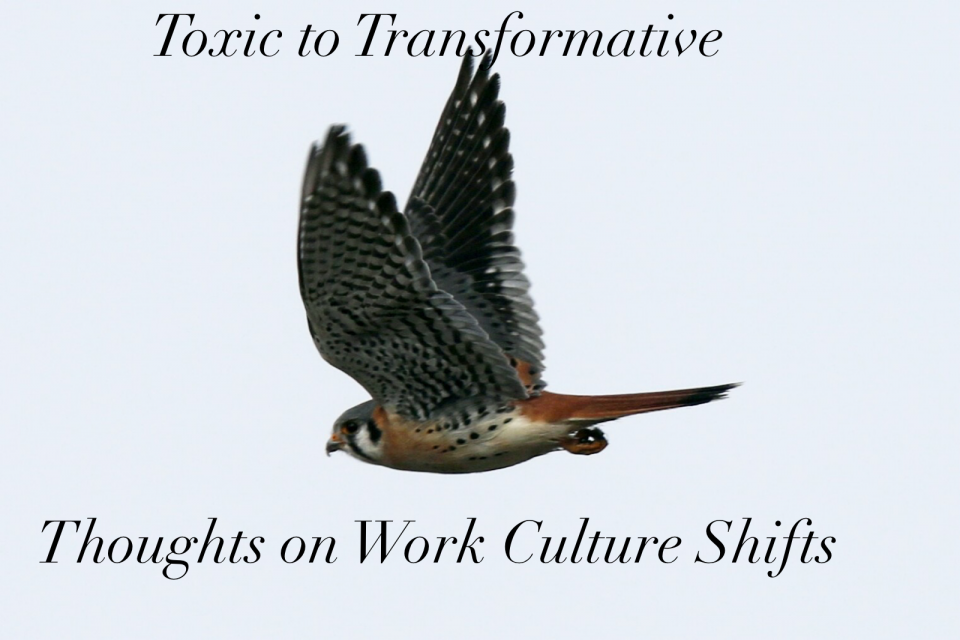 From Toxic to Transformative. Thoughts on Work Culture Shifts.
By Laura Hunter- Owner: Vivid Resources
Welcome to 2020.  The speed of everything is accelerating and the demands for top design talent that can create the most engaging and easy to use products, app and services is a must, not a plus.  In the ocean of digital, the floaters are beautiful, navigable, seductively simple and indispensable.  Then, there are the sinkers (or…stinkers).  No need to go into great detail as to what they look like since few have seen them for long.   Suffice it to say, great UX and Product design is the defining aspect of what separates the Kate Winslet's from the Leonardo DiCaprio's (in case it wasn't obvious; think Titanic).
The Deal With Work Culture:
Top shelf Designers are a talent pool that understand their value and knows their worth.  Its more important than ever for companies who want to (read; must) compete on the global stage for users, to understand one thing above many others.  Culture matters.  Not to be banal, but we spend most of our working lives at work interacting with the people and environments that influence how we experience our… well, work experience.  Good people + good environment = good experience.  Seems simple enough. But take a look at many work spaces and even in 2020 they still lack the wisdom of how to create a conscious, caring, engaging corporate culture that makes people WANT to work there AND do their best work.  Coffee, doughnuts, a cafeteria and occasional catered lunches are passé and not enough to balance a cold, impersonal and uncaring place you have to show up to 5 days a week, be inspired and kick ass.
Why Bother:
Truth is, it takes energy, commitment and time to create the kind of a workplace where people feel seen and heard, valued and included. And it takes dedicated people who "get it" and know how to make "it" happen – with the blessings of those that are not at the mercy of the "bean counters" to see see the bigger picture and to shape and curate the new paradigm of where we work.
Because, let's face it, It's too easy for a disgruntled employee who's having even a moderately lousy experience to go to Indeed, Glassdoor or any of the other corporate culture monitors and air their well founded grievances (some maybe not so well founded but if you take the time to write it one can be pretty confident you're feeling it).
People Thrive When They Feel Connected:
So, is this little whimsy all criticism and no content?  Nah- I've got some pretty substantive thoughts that are not related to "have another group event out of the office" type of thing.  Its more about what is supported in the day to day environment.  Google and startups kind of get it.  Rest areas, places to stretch, mediate and do a little mid-day yoga, ping pong, foosball… you know…stuff like that.
But, how about once a month you get a 15-minute chair massage.   What about A Chief Sunshine Officer that makes the rounds regularly seeing how you're feeling, giving hugs, finding out what's new in your life and if there's a new hobby or skill you're looking to learn.  Asking about your kids, your pup- "let's see pics"!
And how about, once a month its bring your dog or baby or both to work.  Nursing stations and healing breaks during the day where sound, light and movement is offered for literally- 15 minutes to help you rejuvenate and then dive back in.   See where I'm going here?  It's about connecting to the person who sits in the seat that you want the best out of and creating an office atmosphere and experience that supports and nurtures the whole person.  Pretty sure if you as a company give them your best, you'll get that back in return. Along with a lot more loyalty and a lot less attrition.
And Don't Forget Self Support:
Meanwhile, Dear Reader, if your corporate culture isn't supporting your need for this type of an environment (and even if it is) , you can still support it in yourself.  When things are feeling tense and overwhelming, just take a moment, go to a private place and close your eyes for a few minutes.  Take some slow breaths in and out (I like to hold in for 2 beats and out for 2 beats).  Visualize a place you feel calm, safe and peaceful and give yourself a nice warm hug.  Now, isn't that better?